Prints on Fabrics & Paper 
Wall Art You Can Match
Learn more, select from the below categories:
My Ejm Art shop at Spoonflower (fabric, wallpaper & gift-wraps)
Ejm Art shop with Spoonflower "Home decor products"
MTM designs, FREE Pattern pieces & Tutorials
Ejm Art is sustainable & slow fashion
Klik here to learn more
Prints & my creative process
I develop my prints illustrative graphic and photo-manipulative transformed. The graphic prints are hand- and digitally drawn motifs of how I interpret the Zeitgeist & the Beauties of History and the Present. This I do with my aesthetic view, and DNA of Ejm Art (pronounced: I´m Art). My prints are:
frontprint

printrapporter

Made-to-measure (MTM) Ejm Art garment & home printet designs created for best possible utility of fabric & economic buy. Free downloadable garment patterns to cut the printet fabric sections after. Sizes are from S to XL (some only in one size such as M and  XXL). 

"Ejm Art huge repeat prints" er print tilpasset et meget stort areal som fx 140cm x 2 meter.

Family bedding kits
If you should run into a uploaded fabric/paper print (or color versions of a print) thats not purchasable yet. Let me know. 😊
Ejm Art is slow fashion, sustainable and authentic design.
This means that it is about presence, appreciation and timeless design.
Calm and balance, no stress and haste, but to create in harmony with body and soul.
I wish to make you happy with my offers. So enjoy all my current fabric & paper print designs, family bedding kit,, mtm designs, sewing tips & guidance and let me know what else I can do for you? 😍  You are always welcome to leave me any requests on sewing, prints and color versions of your interest? Sent your request to you_and@ejmart.dk
To all my prints there is a story… Discover which whenever you click on one of my prints. 
Bedding in "Wild Poppies" print design transformed from the "wild Poppies" Photo Art wall decoration.
Print design inspired from some of Art Nouveau's greatest artists; The amazing building of Hector Guimard, the use of gold in the fantastic work of Gustav Klimt, and the beautiful drawings of Alfons Mucha… Inspirational lines, colors and style…
Photo & Graphic Art
Canvas & Poster prints
I love to capture nature as I see it and I have a passion for, not only transforming some of my photography into mirroring interpretations but also into pattern designs unrecognisable of its origin. The possibility of wearing a dress or sleeping in bedsheets of which designs was created from the Photo art on my wall excites me: I love the fact that it gives me a story to tell…
If you wish for a matching design between your home created products and the canvas or poster art displayed on your wall, you have come to the right place:
In your living room; An additional deco to your newly sewn through pillows or table cloth..
In your bedrooms; A superb match with the lovely family DIY Bedding Kits. (Learn more about the kits in the upcoming section).
You will find unique printed fabric or paper design for your diy projects here and matching graphic or photo wall art for your designs here.
My photos are artistic; true to the aesthetics of nature it self and to my interpretations. Not all photos available have been transformed into prints but all have a correlation. 
The graphic poster art are particularly lovely  in the adult or the childrens bedroom due to their perfect match with the Ejm Art diy bedding kits.

DIY Family Bedding Kits
Ejm Art family bedding are all about..
helping your child to enter the land of dreams by feeling secure. The coherency in the design emphasises your family bond & gives joy to you and your family.
The patterns in the design unite, showing the bond that you have as a family. It´s coherency can provide your children the feeling of togetherness even when apart. Such as, when your little one sleeps in her/his own bedroom and mom and dad in their bedroom, you are kind of still together symbolised by the coherency of the Baby, Junior & Adult design.
Further more, the figures/animals on the Junior and Baby bedding are Guardian Engels that offers goodnight stories told with a special narrative technique (at the moment only in Danish), but you can also use them making up your own stories. They are the main characters to whom you can create a sweet or cool safe keeping bedroom univers…
Instead of throwing out waste fabric, I prepared it to be used for additionel bedroom decoration designs (so far part of the Adult bedding kit). Together you can create toy friends, butterflies and air balloons, all to be part of your good night stories keeping your little ones safe as they travel to the magical world of dreams.
Free tips and guidances are continuously uploaded to my website, designs you can create for and/or together with your children.
I also make cardboard/paper designs of which templates freely can be downloaded. The latest of my projects to upload for you being:
How to make Geo´s cardboard plane. 😃😎👍 See Geo´s family bedding HERE and…
Take a look HERE on creative ideas already available  😍
The design unites & differentiates giving you the possibility to have the adult bedroom all romantic, all masculine or in a mix of classic and romantic, or feminine and masculine.
Be the tailor of your own bedding – diy kits for the whole family!
I am so happy to offer duvet & pillow cover fabric kits for Baby, Junior and Adult.
Designs to simply cut & sew.
The kit includes cotton satin fabric for a pillowcase and duvet cover, zippers for both, wash-labels and sideflags to which you, being the tailor, can add your initials. You also get a beautiful matching bag in a high quality gabardine fabric.
A super gift idea for the whole family. Even as a beginner to sewing, you will rock!
My Ejm Art shop at Spoonflower
I sell some of my products directly from my website. Others are sold from my shop at Spoonflower. Links that take you there, are placed at the given product pages. 
At Spoonflower you can purchase a vast amount of fabrics in Test Swatch,  Fat Quarter and Meters. Unfortunately momentarily no half meters or less, which is why I also create MTM (made to measure) print designs for best utility & economic buy.
Spoonflower is a wonderful platform for creative people to sell and buy a vast amount of beautiful and diverse prints.
Besides ordering prints on fabrics, you can also order them for wallpaper and gift-wraps. See next section on ordering my prints on home textiles.
Ejm Art at Spoonflower "Home decor products"
Ejm Art prints can be bought on various products like cocktail napkins, placemats, tea towels, and pillows. These are all finished goods, so no sewing skills required here.
Be aware that all sewing currently are done only with WHITE top-stitching and therefore might not be suitable for all my print designs.
Spoonflower does not give me the possibility to select only chosen prints to sell at home textiles, therefore please ignore my garment MTM prints and be aware of huge MTM prints not necessarily being useful for all  home textile products.
I recommend viewing Spoonflowers  products with my prints from my Pinterest site first. Please note, that here, they still are referred to as being Roostery´s products (a sister company to Spoonflower, who used to be the company behind the finished sewn products, but now are kept in Spoonflowers own name).  
MTM designs, FREE Pattern Pieces & Tutorials 
I like to turn my drawings of designs into real products. When I do, pattern-pieces will be made available in selected sizes (from xs – xl/xxl).
If you have any pattern design wishes or other, send your request to the e-mail you find here.
You can purchase made to measure (MTM) fabric print designs on garments and home textile designs.
The blouse you see to the right (or below viewed from your mobile) is an example of fabric section printed design to which you can download the fitting pattern pieces for FREE (read on 😀)
Click here to see all current available mtm designs and find the link to the FREE patterns at the MTM Garments "box" (just above the gif with the flying birds. 😄 👍).
MTM fabric is also made with "Ejm Art huge repeat prints", available at my Spoonflower shop in the following repeat dimension: 56″x78.7″ (142cm x 2 meter).

MTM garment designs are created to offer you the best possible utility & economic buy.
Tutorials on HOW TO assemble the downloadable pattern pieces and work with the mtm fabrics are available here.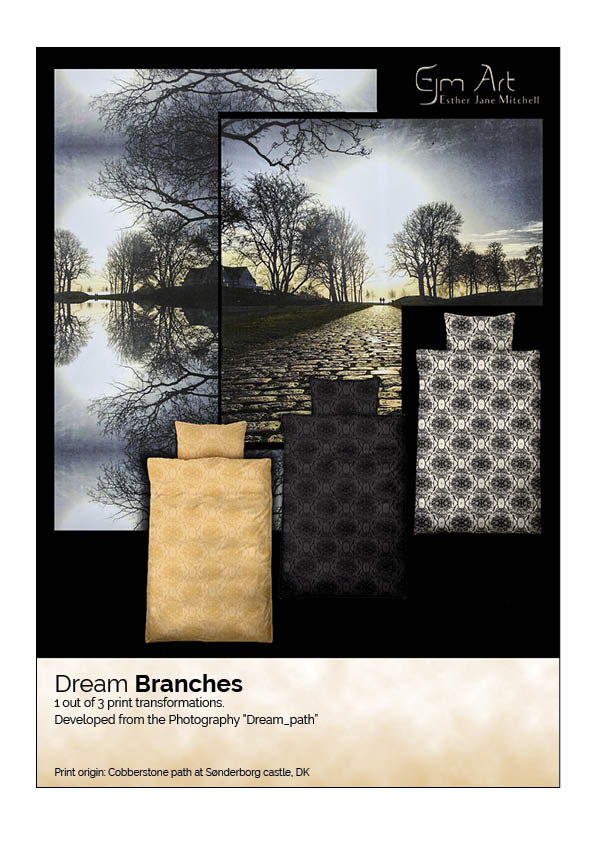 Duvet cover with dream branches print.
Puchasable as finihed sewn product in American bedding sizes;  twin, queen and king sizes. DIY & Buy the print per running meter OR buy the finished good  HERE